Statement from the Avril Lavigne Foundation and...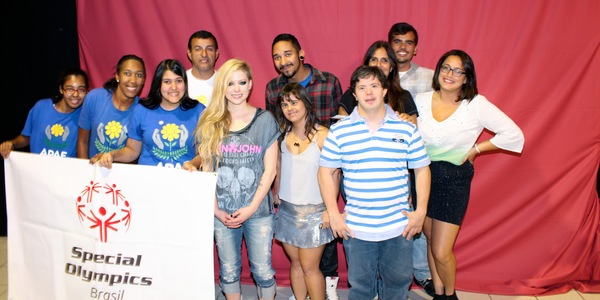 Avril Lavigne has announced that she has written a song called "Fly" for The Avril Lavigne Foundation to support Special Olympics. The song will be released in advance of the Special Olympics World Summer Games, which will take place July 25-August 2, 2015. More details about the song will be available soon.

In September 2014, as part of the Avril Lavigne Foundation's support for Special Olympics, Avril launched a campaign for her 30th birthday, which raised funds to support 30 Special Olympics Athletes competing in the 2015 Special Olympics World Games.

The athletes supported by the campaign will come from five different countries and will be announced in February. During her 2014 World Tour, Avril visited a local Special Olympics program in Shanghai to learn more about their programs, and met with and invited more than 200 Special Olympics athletes to her shows in 14 countries.
About The Avril Lavigne Foundation
The Avril Lavigne Foundation was founded by Multi-platinum Singer-songwriter and philanthropist Avril Lavigne in early 2010. The Avril Lavigne Foundation R.O.C.K.S.: Respect, Opportunity, Choices, Knowledge, and Strength in support of children and youth living with serious illnesses or disabilities. The Foundation partners with leading charitable organizations to design and deliver programs, raise awareness and mobilize support for children and youth living with a serious illness or a disability. For information, please visit www.theavrillavignefoundation.org, www.twitter.com/avrilfoundation, or www.facebook.com/theavrillavignefoundation.
About Special Olympics
Special Olympics is a global movement that unleashes the human spirit through the transformative power and joy of sports, every day around the world. We empower people with intellectual disabilities to become accepted and valued members of their communities, which leads to a more respectful and inclusive society for all. Using sports as the catalyst and programming around health and education, Special Olympics is fighting inactivity, injustice and intolerance. Founded in 1968 by Eunice Kennedy Shriver, the Special Olympics movement has grown to more than 4.4 million athletes in 170 countries. With the support of more than 1.3 million coaches and volunteers, Special Olympics delivers 32 Olympic-type sports and more than 81,000 games and competitions throughout the year. Special Olympics is supported by individuals, foundations and partners, including the Christmas Records Trust, the Law Enforcement Torch Run for Special Olympics®, The Coca-Cola Company, The Walt Disney Company and ESPN, Lions Clubs International, Microsoft, Mattel, P&G, Bank of America, Essilor Vision Foundation, the B. Thomas Golisano Foundation, Finish Line, The Safeway Foundation, and Safilo Group. Visit Special Olympics at www.specialolympics.org. Engage with us on: Twitter@specialolympics; fb.com/specialolympics; youtube.com/specialolympicshq, instagram.com/specialolympicsand specialolympicsblog.wordpress.com.